Wet Food & The Dog Food Market
With increasing your dog's life expectancy by over 30 months, to growing as a segment in the rapidly expanding dog food market in India, to multiple lawsuits being brought against commercial dry food kibble manufacturers, here's a lot you need to know about what to feed your dog!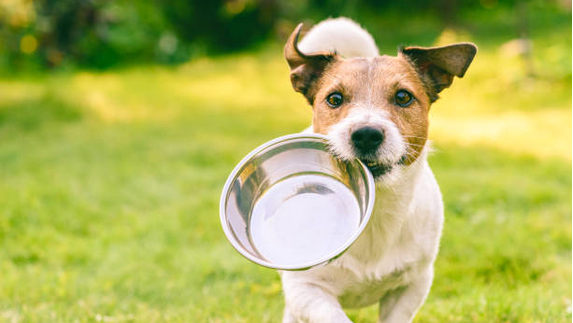 The pet care industry in India is fast growing. According to a recent report, it is expected to grow to Rs 5,474 crore by 2025, with a CAGR of more than 19%. (YourStory, March 2022). The study shows that the dog food segment is expected to dominate as the largest revenue generator. But 'dog food' is a broad category. To most people it only means dry kibble.  However, in a fairly recent essay by Dr Lippert and Dr Sapy (for the Prince Laurent Foundation Price), the researchers studied the relationship between the quality of life and life expectancy of pet dogs. One of the factors in the study focused on food.The research reveals that home cooked wet food can increase dogs' life expectancy on an average over 32 months – that's almost three years! With dog parents' preference for the best quality dog food, the path to the dog food industry growth appears to be specifically tied to health and wellness, not convenience and low cost.  And that's why it's important to understand the real benefits of wet dog food.
Why wet, home-style food is better for dogs?
HIGH NUTRITION CONTENT To begin with, wet food is made with real edible ingredients such as meat, vegetables, and grain. Hence, it contains the required amount of protein and fat essential for dogs, and less carbohydrates.  It contains grains such as brown rice and broken wheat, which are sources of vitamins, minerals, fibre, and healthy carbohydrates that play different roles in the overall health of dogs. Vitamins D and K support heart health, while fibre aids digestion. NO PRESERVATIVES OR ADDITIVES Packaged wet food does not contain preservatives or artificial flavouring and colouring ingredients, thanks to retort technology. This processing method uses heat and pressure to sterilise food and has a shelf life of upto 18 months. It keeps fats and oils sealed and fresh in the package. The food ingredients remain closer to their original state, smell, and taste. SUITABLE FOR DOGS WITH DIETARY PROBLEMS Being overweight or underweight is a problem for dogs. That's when wet food helps. Overweight dogs, or certain breeds (for example, labradors) have a tendency to eat a lot. Hence, the amount of food they eat needs to be controlled. Wet food has a high moisture and fibre content, which helps make dogs feel full faster, and remain full for a long time. On the other hand, dogs who are fussy eaters need food that looks, smells, and tastes appetising and palatable. That's where wet food helps. Finally, some dogs drink less water. The moisture content in wet food solves this issue as well. GOOD FOR DOGS WITH DENTAL ISSUES Senior dogs often suffer dental issues. Chronic dental conditions can make chewing food difficult. Dogs too experience sensitive gums and tooth decay as they grow older.  Wet food is the perfect solution for dogs with dental problems. It is soft and hence, easy to chew. Its moisture content and natural ingredients help keep dogs' teeth clean. With it, pet parents can add years of better dental health, leading to better health to dogs' life. WET FOOD IS MORE APPETISING Some dogs can be fussy eaters. Wet food can help tempt them to eat. The smell and aroma of fresh ingredients help make food more appealing to picky eaters. Moreover, older dogs tend to lose their sense of smell and taste. And wet food helps entice them to eat. PROMOTES HEALTHIER SKIN & COAT The nutrition present in fresh home-style wet dog food remains intact in the package. Vitamins and minerals are essential for healthy skin and coat of dogs. Dogs that feed on wet food have better quality skin, less shedding, more shine, and softer coat.  IT HAS BETTER VISUAL APPEAL In wet dog food, what you see is what you get – rice, meat chunks, vegetables, grains, etc. Unlike dry dog food such as kibble where one really can't tell the ingredients used, wet food is visually more appealing. Pet parents can be sure about what their pets are eating as they can see the real ingredients it's made from. FINAL THOUGHTS As the clinical study mentioned earlier in this article shows, it's amazing what the quality of food can do to dogs. It can not only make food appealing to them but also fulfil their nutritional needs, leading to an increase in their lifespan.  It's also unnerving how industrial pet food manufacturers can go to any length to falsely promote dry food such as kibble as beneficial. Whereas it's the opposite. We'll talk about it in detail in our next blog. Read these eye-opening articles on lawsuits against dry dog food manufacturing companies – a must-read if you're a dog lover/ parent, and still wondering why you should care to give your dog wet home-style food. Lawsuit filed against pet food company (www.cbc.ca) https://www.cbc.ca/news/canada/50m-lawsuit-filed-against-pet-food-company-1.662317 Lawsuit against pet food company after pets die (CNN) https://edition.cnn.com/2015/02/24/us/dog-food-lawsuit/index.html Dog food company sued by dog owners (Taipei Times) https://www.taipeitimes.com/News/taiwan/archives/2004/07/02/2003177350 Reports on dog food causing pet sickness (NCconsumer.org) https://www.ncconsumer.org/news-articles/owners-claim-fibers-in-pedigree-dog-food-is-making-their-pets-sick.html 4 pet food brands issue recalls linked to finding of pathogen (Business Insider) https://www.businessinsider.in/four-pet-food-brands-have-been-recalled-after-dogs-and-cats-fell-ill-and-died/articleshow/62936941.cms Year-by-year dog food recall list (Petful) https://www.petful.com/recall-lists/dog-food-recalls/